With the diversification of life, the clothes and decorations of people have also changed and diversified. The most typical thing is the clothes we wear, with various styles and various fabrics. It is this diversification that brings us a little trouble. Which style to choose is one aspect, the worst thing is that some clothes will appear wrinkles and so on. So some people say that the most common way to use folds in clothes is to use an electric iron. But as the garment ironing machine enters our lives, how to choose is another question. Today we will take a look at the difference between these "two brothers".
1. The definition and advantages of electric irons
definition:
An electric iron is a cleaning appliance that uses electric heating to iron clothes. It is one of the indispensable electrical appliances in modern households. It is a tool for leveling clothes and fabrics. The power is generally between 300-1000W. Its types can be divided into: ordinary type, temperature-regulating type, steam type, neat spray type, etc. electric irons are made using the thermal effect of electric current and used to iron clothes.
Electric irons are simple in structure, easy to manufacture, and convenient to use, so they develop rapidly. There are two types of electric irons that are produced and used more frequently in our country: ordinary type and ordinary temperature regulating type. New types of electric irons, such as jet type, spray type, constant temperature type and electrolytic steam type, have also appeared.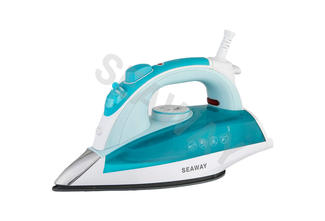 2. Advantages:
(1) Small size and convenient storage
At home, even a small corner can put down the iron, and it is very convenient when you use it. You can quickly take out the iron, get it ready, and use it right away.
Many people in the past often used irons. They are used to irons and are very comfortable in ironing clothes. They feel that using irons is good, and it saves money, water, and electricity.
(3) Low power
The power of an electric iron is not as large as that of a garment ironing machine, so it saves electricity.
Second, the definition and advantages of garment ironing machine
definition:
After adding water to the garment ironing machine, the heater used in the inner core of the garment ironing machine vaporizes the normal temperature water into high temperature (generally above 98 degrees), high pressure water vapor, and releases the hot water vapor through the steam pipe and nozzle. In use, just aim at the folds of the clothes and spray them together with the trouser clips, brushes, dusting brushes, ironing liners and other accessories of the garment ironing machine, and smooth them through the actions of "pulling", "pressing" and "spraying". Clothes and fabrics make the clothes smooth, supple, and have the effect of removing mites, bacteria and dust.
Advantage:
(1) Does not damage the fabric
Nowadays, young people like various clothes, and the composition of their fabrics is also different. Generally, irons are easy to damage the fabrics of the clothes and make the clothes hard, while the garment ironing machine only needs to hang naturally, and it can be easily completed. , And there is no harm to the fabric, so that the ironed clothes will not destroy the three-dimensional effect of the clothes, such as some three-dimensional cut clothes, they can also be ironed easily.
(2) The number of times of adding water is small
Nowadays, young people have more and more clothes, and if you add water to the garment ironing machine, you can iron dozens of clothes at a time. Even if the whole family's clothes are ironed once, it can be done easily.
(3) Good sterilization effect
Because the garment ironing machine is ironed with steam, it is also possible to leave the clothes at a certain distance. This advantage is absolutely good for ironing those dead corners of the clothes. More importantly, the steam of the garment ironing machine is relatively non-toxic, which not only irons the clothes well. , It also has the effect of sterilization and disinfection.
As the saying goes, "Everything has advantages and disadvantages." From the above analysis, it is not difficult to see that these "two brothers" have no essential difference, their functions are similar, and their advantages and disadvantages are obvious. So the question of how to choose these "two brothers" depends entirely on personal preference. In addition, when buying, you should also pay attention to understand the various indicators of the product, after-sales and other related information. After all, buying bad things is not what you want to see.