The temperature of the iron during normal operation varies with the material of the clothes. The temperature of the
Cord Rewind Steam Iron
soleplate is divided into three levels: low temperature, medium temperature, and high temperature. The temperature of each grade is roughly: low temperature 90~120T, medium temperature 120~160T, and high temperature above 160T.
Normal use method of iron and matters needing attention:
1. For the same level of temperature, the upper and lower limits have great flexibility in actual operation, and the adaptability to different fibers is also different. For example, 120~160T can be regarded as the temperature range, 120T is safe for polyester fabrics, and 160T is very likely to have bright marks. The actual temperature difference between the anti-bright backing plate and the non-brighting backing plate is about 101.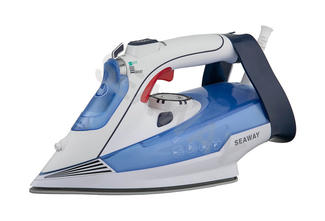 2. The same temperature is just right for some fibers, but too high or too low for some fibers. Practice has proved that the temperature control iron cover anti-bright pad is selected as medium temperature, and the temperature is 120~140T during normal use. It is suitable for ironing most clothing and has good safety. As long as the ironing method is correct, the quality of ironing can be basically guaranteed. And safety.
3. Generally, if you use a steam iron, the clothes do not need to be wet. Unless more special fabrics, such as high-end sweaters, cashmere sweaters, etc. When the sweater is 90% dry, it can be ironed with a steam iron at a medium temperature of about 140℃. The iron should not be directly pressed on it, and a distance of 0.5~1cm should be kept from the sweater. If other irons are used, they must be separated by towels.
4. When ironing cotton, linen, and wool fabrics, the iron can be in direct contact with the fabric; when ironing vinylon fabrics, the iron is best to be in direct contact with the reverse side of the clothes, and do not cover the wet cloth.
5. When ironing thin fabrics such as silk and nylon and synthetic fiber fabrics, a layer of damp and soft cloth should be placed on the fabric; the ironing temperature of various synthetic fiber fabrics should not be too high, the iron should be moved frequently during ironing, and the pressure should be Appropriate and uniform.