1. Easy and cordless ties
Put the steam iron on the base that is connected to the power source, and during the idle time for tidying up clothes, the base will heat the steam iron to the required temperature for continued use. Ironing clothes is no longer restricted by wires, making it easier and more convenient for you to use.
2. Spherical bottom plate
The delicate spherical ironing surface concentrates the center of gravity on the ironing surface. The surrounding area will not wrinkle the clothes. It can iron clothes quickly without tangling the clothes. It can move the iron freely and smoothly in all directions at the same time. Reduce the factors that cause wrinkles.
3. Automatic winding
When using a cordless electric iron, the power cord of the power supply base can be pulled out to the required length as needed. After the electric iron is used, the power cord can be automatically stored by just pulling it lightly. Convenient.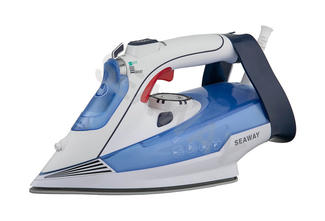 4. Electronic temperature adjustment
Precise temperature control technology, accurate temperature sensing, and good constant temperature performance, so that the soleplate of Panasonic electric iron can be accurately and constantly at the required temperature, which can easily smooth wrinkles and protect the clothes from being ironed, which improves ironing quality.
5. Comparison of flat bottom plate and spherical bottom plate
The flat bottom plate distributes the pressure evenly, and it is easy to rub the cloth and cause wrinkles. The spherical soleplate concentrates the pressure on the middle of the iron, and ironing in any direction will not be entangled by the clothes.
6. Vertical ironing without cordless entanglement adds dexterity
The cordless design gets rid of the entanglement of the power cord. The slim body is flexible and lightweight, and shuttles freely. Without an ironing board, you can hang clothes at will, and you can easily iron vertically. The powerful steam sprayed out can quickly penetrate into the clothes fibers, make the clothes fibers fluffy and smooth, and the clothes are naturally smooth, and eliminate the odor on the clothes and restore the elasticity of the clothes.