Even if you set your ironing board up in front of the TV, doesn't the couch look
garment steamers
much more inviting? Unfortunately, many of our favourite clothing items wrinkle easily, making ironing a chore of necessity.A garment steamer will keep your clothes wrinkle-free and looking fresh  without any of the hassle that comes with ironing. Say farewell to the old iron and discover the benefits of using a garment steamer.Traditional ironing takes time.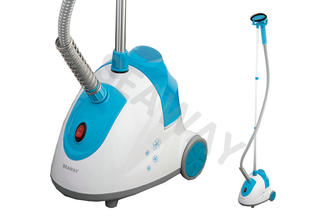 Manoeuvring clothing pieces around the board and working around each button to smooth out every inch isn't very efficient.With a garment steamer, you can see how the clothing is meant to hang and where the creases are right away. All it takes is a few strokes with the garment steamer for those wrinkles to disappear. No setup is required, and you can whip out the steamer to use as needed.Not only is a garment steamer quicker; it also takes much less effort. You don't need to lay out the clothes in several positions and iron them from all angles. A garment steamer works on all sorts of materials to deliver incredible results.
And because it uses steam to remove creases, it's perfect for delicate fabrics such as silk and lace.Don't just use your steam cleaner for clothes, either. As it's a portable device, you can also use it for cleaning tasks around the home. It can banish odours and freshen the look of curtains, rugs, upholstered furniture, and bedding. You can even use it to sanitise kitchen benchtops or clean the mirrors in the bathroom.Irons have hot plates, which can damage your clothes quite easily.
The action of using an iron crushes the fabric fibres, which can result in permanent damage. Not to mention it's very easy to burn material with an iron. Who hasn't ruined at least one item of clothing by ironing it when they shouldn't have?A garment steamer will safely and gently smooth out your clothes, resulting in a perfect finish every time. It also kills bacteria and odours, keeping your clothes fresh between washes.