The temperature of the tool that converts electrical energy into heat is determined by its own power and the length of the energization time. The larger the wattage, the longer the energization time, the faster the temperature rises, the higher the temperature, and the slower the temperature, the lower the temperature. The heating elements of electric irons include mica skeleton heating elements and metal tube heating elements.
The
travel irons
made of mica skeleton heating element has simple structure, easy manufacture, relatively uniform heating, and convenient maintenance. The disadvantage is that the heating wire is exposed to the air, oxidizes quickly at high temperatures, has a short life span, is easily affected by humid air, and has insulation properties. Poor. Electric irons made of metal tube heating elements have good mechanical strength, long life, high thermal efficiency, good moisture resistance, safety and reliability, but the manufacturing process is more complicated.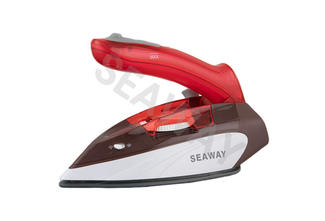 Extended information
The ancients put red-hot charcoal in the iron before ironing. "In the early ancient irons, in order to prevent hands from being scalded, a wooden handle was inserted at the rear interface of the iron. The shape of the iron after the Ming Dynasty has undergone a qualitative change, the casting technology is higher, the shape is particularly beautiful and atmospheric, and it has the shape of a dragon head and an official. The hat-shaped and diamond-shaped edges are so beautiful. By the time of the Republic of China, the style had already had the prototype of a modern electric iron, which was more scientific, practical and environmentally friendly to use. The material selection was mostly water-red copper before the Ming Dynasty, Qing Dynasty and the Republic of China Most use brass.
Ancient irons were mostly distributed in the east and southwest of our country. Regardless of the dynasty, the "Warring States ornamentation" was basically the beauty. The two have significant differences in craftsmanship and materials. The ancient irons in the eastern Jiangsu and Zhejiang regions are relatively heavy, while the Yunnan and Guangxi Guilin regions are lighter in weight and thin in material. They are more beautiful in carvings and are naturally more expensive. "In ancient times, irons were generally only affordable by wealthy families. Yes. From the Han Dynasty to modern times, almost all irons are made of copper, and there are not many changes in the shape and design. They all look like a water scoop.
Except for the irons of the 1920s and 1930s with enamels and lids, the rest of the irons from the Han Dynasty to the Qing Dynasty were all black without a lid. The principle of these irons is to place burning charcoal in a container, and iron the clothes underneath with a high-temperature and smooth bottom.