Garment steamers are a handle steamers convenient way to keep your clothes fresh and wrinkle-free at home or on the road. They keep your clothes looking new longer and eliminate some of the wear and tear from ironing and frequent washing. But did you know there are a multitude of uses for a garment steamer in and around the house? Not only are garment steamers handy for cleaning and sanitizing a range of surfaces, but they also give you a healthy and inexpensive way to deodorize, disinfect and break down grease, grime and dirt. From keeping the interior of your car fresh and clean to helping out with dreaded kitchen chores, a garment steamer is a must-have for anyone with a serious housekeeping arsenal. Because you may dread tackling this chore, it's easy to skip attacking those stains and spills in hard-to-reach places. A handheld garment steamer is perfect for steaming away stains, spills and odors in your car quick and easy. Tired of trying to get your mirrors and windows clean without leaving lint, smudges and streaks? Your garment steamer is ready to tackle the job.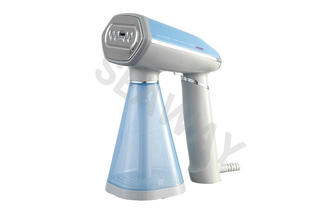 Up your steamer and blast away dirt, residue and dust on all your glass surfaces for a streak-free shine.You can only vacuum up so much on, in and under your sofa. Stains, stuck-on gum and other grime take some real effort and tenacity to clean. It's easy if you let steam handle the heavy lifting. Upholstery cleaning is one of the best uses for a garment steamer because it breaks down stains, deodorizes fabric and sanitizes for a deep-down clean. Don't kill yourself pulling down your heavy window panels, washing and drying them and putting them back up again. A garment steamer breaks up dirt and blasts away dust for crisp, fresh drapes. Plus, you can get rid of any stains or odors as a bonus. Before you get started, check to see that your drapes aren't "dry clean only." If they are, do not use the garment steamer on them. Get off your hands and knees and stop lugging out that heavy carpet cleaning machine just for stains. A garment steamer is portable and powerful, making it the ultimate stain removal tool. Dirt, spills and stains are inevitable with carpet. Having a convenient and easy way to handle them before they set saves you time and energy.
Steamers that create temperatures greater than 212 F can sanitize a variety of different surfaces. Of all the uses for a garment steamer, this may be the most important. Your kitchen counters, bathroom vanity and just about any other surface in your home harbors germs and bacteria. Grab your garment steamer and steam away germs, bacteria and more from the surfaces in your home to provide a healthier environment for your family. Stove and range grease is every kitchen's sore spot. Even with the best degreasing techniques, getting your cooking areas clean and sparkling is a challenge. A garment steamer is handy for regular degreasing to prevent buildup and is also great at breaking up baked-on grime. You may clean your bathroom like a pro on a consistent basis, but getting rid of those lingering odors and disinfecting thoroughly can be tough. Your garment steamer can kill bacteria and mold that can cause odors and even brighten up dingy tile and grout.
Steam away germs and odors in all those hard-to-reach places for a sparkling clean bathroom. Bet you never thought one of the uses for a garment steamer could help you sleep better! For a deep, healthy clean, strip those sheets, warm up your steamer and steam clean your mattress. A garment steamer is great for getting out old stains, deodorizing and even minimizing bacteria and germs. Take it slow and let the steam do the work without getting things too damp. You'll want to let your mattress dry before putting on your fresh sheets. Your freezer works hard and sometimes it just gets too cold to do its job. When it's time for defrosting, a garment steamer makes quick work of all that icy buildup. Gather towels and maybe even a container to catch the melt-off and cautiously get to work. You're using an electric appliance around water, so take necessary precautions. That steamer is also great for freshening up your fridge by getting rid of stains and spills.