Sleek and lightweight are the cornerstones cordless steam iron of the iron's design. The handheld garment steam brush mini electric portable steaming iron
features an ergonomic handle that's non-slip and anti-scalding to keep you safe from the powerful steamer. This convenient device has a triple cleaning effect: it's perfect for removing wrinkles and creases, the high temperature sterilizes to remove residual germs and mites, and the steam penetrates the fabric to remove residual detergent.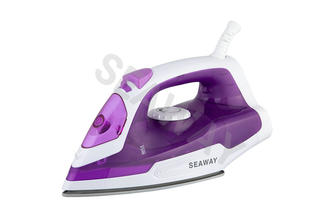 A large-capacity integrated see-through water tank is easy to refill and provides the water level at-a-glance.
The high strength bottom plate allows for fast heat conduction with high thermal efficiency. It's also designed to be eco-friendly and non-polluting, caring for your clothes as well as the environment. This versatility extends to fine fluff brush with a soft texture to gently remove dust and fine debris from fabrics. With a highly portable design, it's perfect for home use, vacations and business travel.
The powerful Electric Portable Steaming Iron uses high-pressure steam to solve all the common ironing problems.
The versatile device has a faster temperature device for excellent start up times, provides a stronger,continuous steam effect, effective wrinkle treatment on all your favorite fashion, and a stronger explosive steam for deeper fabric penetration. The steaming iron is ideal for a wide range of different fabrics to provide powerful yet gentle steaming for long-term use.  
Here are some of the highlights of handheld garment steam brush mini electric portable steaming iron.
High-pressure steam for triple effect wrinkle removal, sterilization and deep clean.
Large capacity integrated see-through water tank
High-strength bottom plate for fast heat conduction and enhanced durability.Ergonomically designed handle for non-slip and extra safetyVersatile, lightweight and convenient, this superb handheld steam ironing brush combines multiple features to handle any ironing situation. Designed to be safe yet effective, it makes your clothes shine while protecting the environment. A modern twist on the standard iron, it's an essential addition to every home.