1. Comparative advantage: Studies have shown that clothes are often pressed with a flat iron, which can easily damage the fabrics of the clothes, causing the fabric fibers to become hard and aging.
The
garment ironing
machine is used for ironing in a natural hanging state, and it can avoid direct damage to the fabric under the dual action of the clothes' own gravity and high-temperature steam (temperature above 100 degrees), and can iron the clothes quickly, conveniently and easily. , Make the clothes bright as new and keep the best wearing shape.
2. Advantages of use: When the garment steamer is ironing, the contact part of the clothes (the part where the nozzle is exhausted) is far away from the steam source, and the dirt produced by the high temperature of the domestic water used will never be as easy to spray as a flat iron or steam ironing brush To the clothes, it is completely kept in the bottom heater scale storage room far away (located at the bottom end of the heating furnace of the garment ironing machine).
At the same time, high-temperature steam also has the effects of dust removal, sterilization and disinfection.
3. Convenience advantage: When the garment ironing machine is in use, the steaming speed is usually 30 seconds. In terms of handling, there is no need to worry about burning clothes. When the flat iron is used, the water in the water tank must be boiled, which is slower and needs to be placed at the interval of use, which is more cumbersome.
4. Easy-to-operate advantages: The garment steamer is easy to operate, just plug in the power switch and adjust the temperature knob required for the clothes to be ironed. It will never scald the clothes. It can be described as a must-have product for all ages and fashionable homes. And flat irons are well known, they will burn clothes if you are not careful.
In addition, some garment ironing machines are specially equipped with 6 or even 9 adjustment functions, which are suitable for various fabrics such as silk, cotton, linen, wool, and easy ironing for a good life.
5. Capacity advantage. A garment steamer that can iron more than 50 pieces of clothes at a time. For modern families, it should be able to be used for more than a week with a single addition of water. However, flat irons must be added frequently because of their small belly volume.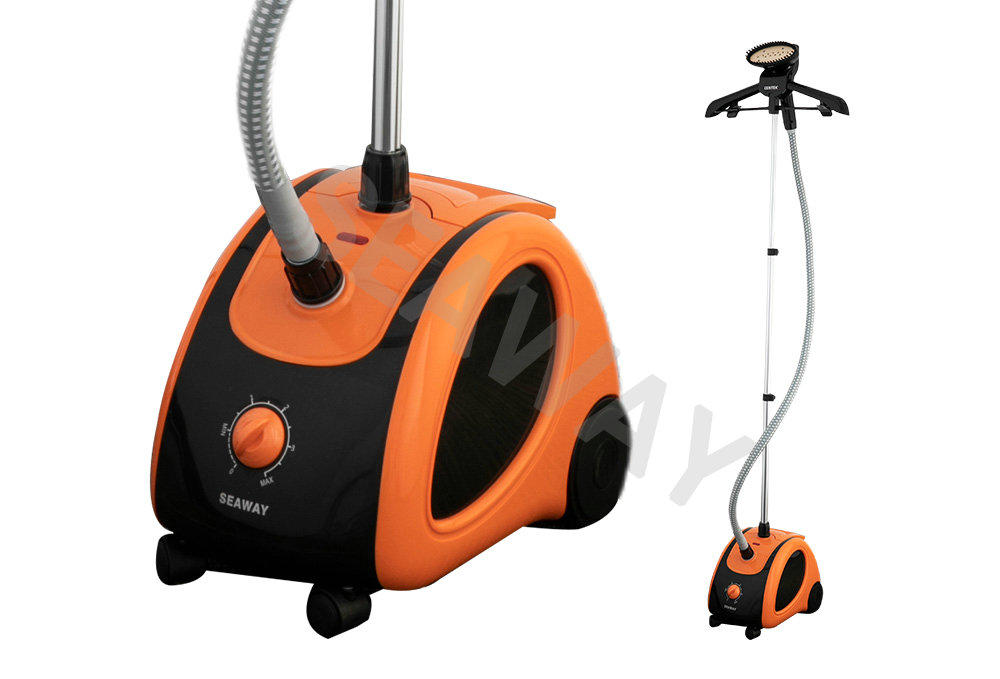 Ningbo Shuaiwei Electric Appliance Co.ltd. was located in Cixi, Ningbo. With east neighbouring deep port of Ningbo and Shanghai, we enjoy an excellent geographical place and convenient transportation. As one of leading 
China Stand Garment Steamers Manufacturers
 and 
Stand Garment Steamers Factory
. Our company is specialized in manufacturing and exporting various of 
wholesale Stand Garment Steamer
 ranging from middle to top grade. We own advanced producing equipment, precise test devices, and top-ranking assembling lines and have integrated with r&d, manufacture, sales and services. We carry out all development, production and sale strictly in accordance with IS09001 stipulations. You are welcome to visit our booth and factory to communicate for further cooperation.