If your iron is not so smooth to use, it should be because the soleplate of the iron is too dirty and it's time to clean it up. After removing dust, fabric fibers and limescale, the iron can restore its smoothness. So, how to clean the soleplate of a
travel irons
? The following are the cleaning steps.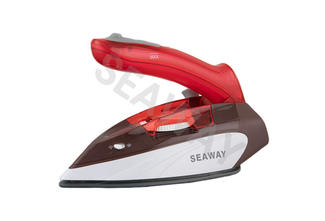 1. Take out a thick cotton cloth, spread it out, and squeeze iron cleaner on it. When purchasing, you should read the product label to buy a cleaning agent with appropriate efficacy.

2. Make sure to turn off the iron. Pour out the water in the iron, and then wipe the bottom of the iron with a damp, warm cloth.

3. Preheat the iron. When the soleplate is warm, hold the iron and move it in a circle on the spread thick cotton cloth.

4. Repeatedly draw circles and scrub until the steam hole on the bottom of the iron is clean.